When to Have Check Printing Done for You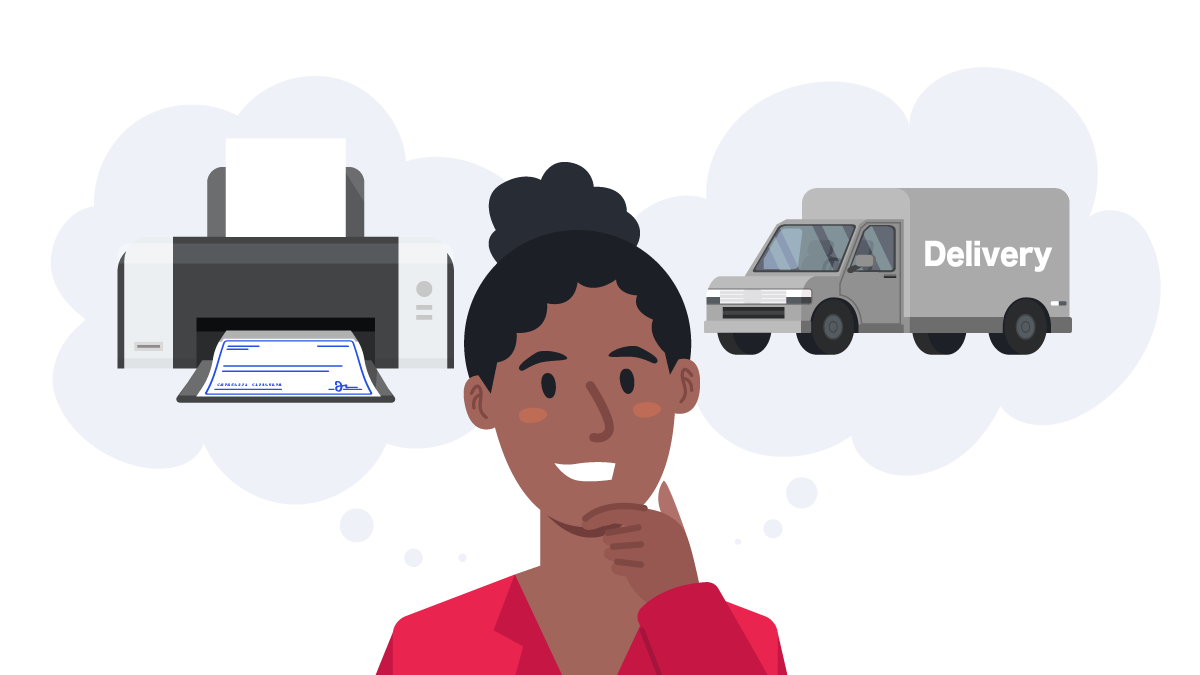 Checkeeper offers full-service, customized check printing and mailing options for businesses of all sizes. If you've used Checkeeper online check printing in the past, you know the convenience of designing checks to your preference and then printing them instantly from your home or office. Checkeeper offers users the added convenience of having checks printed and mailed for them for even faster, more efficient payment processing. Consider which situations are ideal for on-demand check printing from your office and which are better suited to having the check printing and mailing done for you.
When to print your own checks through Checkeeper:
When you need a check instantly
If you truly need that check "on demand," you cannot get it faster than by printing it out right from your office printer. Checkeeper can print legally-viable checks on any paper and with any printer—no special supplies needed for an immediate check.
When you only need one or two
If your check order is very small, it may be time-effective to print checks out while you are already engaged in other bookkeeping work. Printing out a few checks with a stored template and signature that are automatically recorded in the Checkeeper online registry takes less time than writing them out and recording them manually.
When you can hand deliver your check to its payee
Have a payee who is standing in your office? A client, employee, contractor, or associate who you see in the ordinary course of the day? A check that can be hand-delivered to its designated recipient can be quickly created and simply handed over—very little time and very few supplies are needed.
When your office is fully stocked with supplies
If you have all the check stock, envelopes, stamps, and printer toner you could ever need, put it to use with online check printing. Hand-written checks do not look as professional as printed ones, which never even need to be touched by a pen.
When you have enclosures that you must put in yourself
Stuffing envelopes is not always an enjoyable task or a good use of your time, but when you have specific enclosures that can only originate from your office, printing your own check and assembling it for mailing is the most secure and reliable way to assure that your check is sent with all the required documentation.
When to have Checkeeper print and mail checks on your behalf:
When you have a batch of checks
Printing a handful of checks from your office is simple and fast. But if you have dozens (or hundreds) of checks that need to go out promptly, printing and mailing them could take hours or days. Checkeeper can have orders placed before 4 pm EST printed and mailed out in the same business day. This is ideal for high-volume check orders, like rebate and refund checks, and any other checks that need to be mailed to separate mailing addresses. Need the checks back in your own hands before disbursement? Checkeeper can also print a large batch of checks and mail them back to you in one cost-effective bundle for you to later distribute. This is ideal for paychecks and payments you issue at your business location.
When you need a paper trail or tracking number
Checkeeper offers numerous priority mailing options through UPS that come with automatic tracking numbers for enhanced security and accountability. If your payment is large or time-sensitive and you want to follow its chain of custody, Checkeeper priority mailing is a reliable option.
When you've run out of supplies or check stock
Supplies need to be restocked and replenished once in a while, and sometimes the task falls low on a business owner's list of priorities. Though most people occasionally run out of printing and mailing supplies, Checkeeper never does. Checkeeeper's print-and-mail option is a good backup until your supplies are replenished. All checks printed from the Checkeeper fulfillment site are printed in MICR ink for added security.
When you're traveling
Checkeeper is mobile-optimized and cloud-based, so it is accessible from anywhere and is the convenient solution for business owners who travel or conduct business on-the-go. However, just because Checkeeper is always accessible doesn't mean printers and supplies are. If you don't have access to a printer or are nowhere near a post office, you can still have your checks printed and mailed that day through Checkeeper. No need to disrupt your trip—a few clicks and your payment is on its way.
When you have attachments that can be uploaded
Checkeeper allows you to design your check to suit your preferences and can easily add attachments to your mailing. Upload pay stubs, invoice tables, or promotional material to include with your order.
Checkeeper is the all-in-one solution to check printing and mailing needs. It integrates with other popular accounting and payment software, such as QuickBooks Online, Gusto, Square, FreshBooks, Xero, and more for the most efficient, accurate, and streamlined payment management.