Outsource Your Check Printing and Mailing to Checkeeper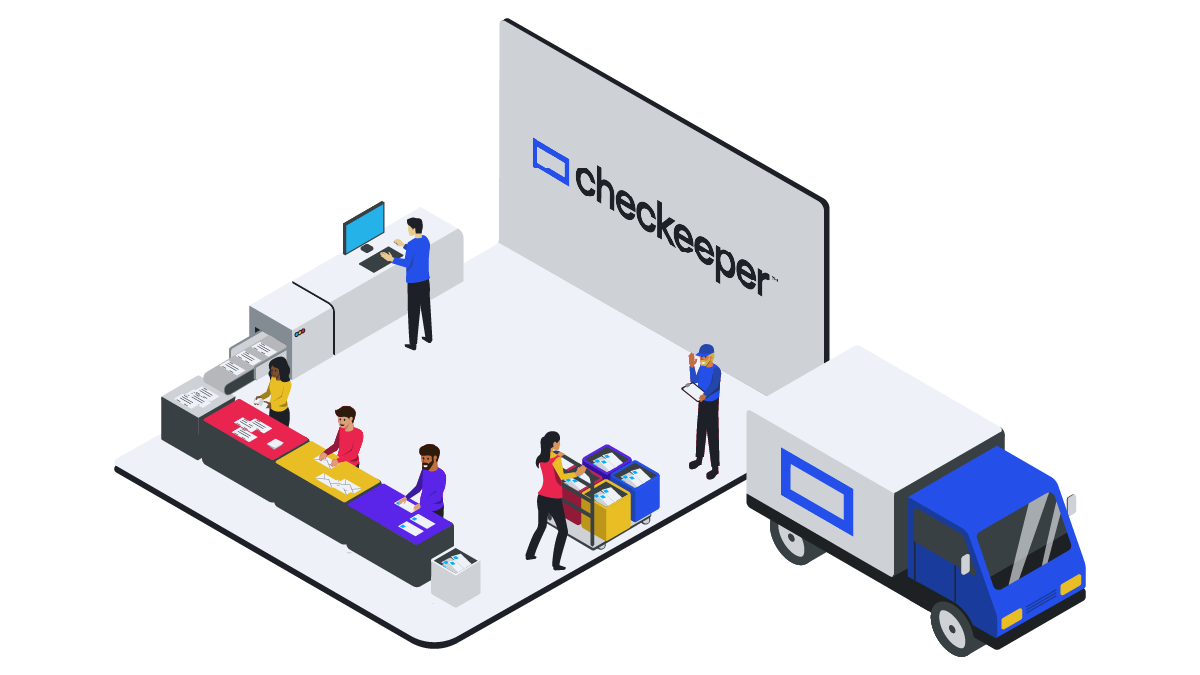 Outsourcing routine management tasks helps businesses save time and cut labor and supply costs. Outsourcing your business's check printing and mailing takes a lot of work off your own desk and frees up your and your employees' time for more productive pursuits. Checkeeper prints and mails your custom checks on demand while still keeping you in control.
Benefits to outsourcing your check printing and mailing to Checkeeper:
Convert bills directly into check payments
Save time issuing payments to vendors, suppliers, leasing agents, utility companies, credit card companies, and business affiliates by having invoices converted directly into checks that can be printed by Checkeeper and in the mail the same day. Connect your Odoo or Xero accounts to Checkeeper, and Checkeeper will create checks with automatic bundled totals and invoice tables for smooth, streamlined bill paying. Place the check order by 4 pm EST, and have checks in the mail the same day. Video instructions for using Checkeeper's automated bill paying features and other account links are available to walk you through.
Have a high-volume check order printed and mailed for you
For those times when you have dozens, hundreds, or thousands of customer rebates or refund checks to issue, Checkeeper is a lifesaver that can step in and handle all the work for you. Simply upload the CSV file or spreadsheet with the contact information, and checks can be printed and mailed for you, same day, to each recipient's address. No time, work, or supplies needed on your end for a custom solution to a high-volume check order.
Choose your priority mailing speed
All payments are important, but some are more urgent than others. Whether you have a single, straightforward payment, or a large, time-sensitive check to send, Checkeeper has a mailing option to suit every need: UPS Next Day Air, UPS 2nd Day Air, USPS Priority (all with tracking), and USPS First Class (no tracking).
Have your entire payroll processed
Checkeeper works as a stand-alone for payroll check printing, and it also integrates with other payroll software for smooth, streamlined, paychecks to employees. Online instructions explain how to run payroll from Square or Gusto in order to generate paychecks for employees, no matter how many you have. Checkeeper can print all paychecks for you and send them back to you in one batch, overnight, for the most expedient and economical way to disburse paychecks on site.
Keep up with check payments when traveling
Just because you're out of town or away from your office for the day does not mean the bookkeeping has to be put on hold. Outsourcing all your check needs to Checkeeper means you have access from anywhere and can continue to keep payments up-to-date. Checkeeper is cloud-based and mobile-optimized, enabling you to place your check order from anywhere: a remote office, a client's business, a hotel room, even your vehicle.
Give your virtual bookkeeper access
Outsourcing your check printing and mailing to Checkeeper enables your remote bookkeeper or assistant to issue check payments on your behalf without having to store your checkbooks and ledgers at their location. She or he can have checks printed with your bank account information and then mailed to the proper addresses without any direct contact with your office, check stock, or supplies. All transactions are traceable so that you can monitor or limit the user authorizations as needed.
Update and change account info without ordering new checks
Gone are the days of having to order new checks every time you move locations or change banks. Since your checks are created on demand, you can input new address information, checking account numbers, and bank routing numbers to suit your needs. Outsourcing your check printing and mailing to Checkeeper means the end of those outdated, unusable checkbooks. Working from multiple checking accounts? One Checkeeper account can link them all so that you can issue checks from various accounts with no extra time or expense needed.
Make no costly investment
No special equipment is ever needed to create instant, customized checks for your business. Checkeepers who are accustomed to printing checks from their homes or offices are used to the convenience of using whatever printer and check stock that is on hand. But having Checkeeper print and mail the checks on your behalf means even fewer printing and mailing supplies are needed: none. A device and an internet connection are all it takes to get a check order printed and mailed on demand. Upload and save backgrounds, images, logos, and signatures to add to your checks for a fully-customized look. Checkeeper's cloud-based service means that all support, security, and updating are done for you, so no costly investment in equipment, supplies, servers, or IT expertise are ever required to benefit from all the features of automated check printing and mailing.