Is Checkeeper Right for You?
You've built your company, gathered a large group of loyal clients and assembled a talented team of bookkeepers to keep everything running smoothly. Your expertise and knowledge in the industry have taken you to the level you're at now.
Your bookkeeping customers are as unique as their fingerprints. Each one comes with a different set of policies and requirements for issuing payments, and this is where you shine! Your accounting software is able to keep up with the numerous transactions and bank accounts, but, when it comes to printing checks, it's falling short -- or worse, it's not even a viable option for your team.
The Classic Check Printing Challenge
Each of your clients might have their own unique check stock, completely different formatting layout and style. Some have MICR encoded bank account details, others only have the business logo in the top left corner. And your accounting software, for example, QuickBooks, only prints in a single check-on-bottom format (which conventionally, NONE of your clients have)
When our founder, Justin, created Checkeeper, this was the exact predicament in which he found himself-  sitting on stacks of check stock that didn't match his accounting platform format. So, foolishly and unprofessionally, he was creating excel spreadsheets and Microsoft Word templates for printing checks. After one deleted template too many, Justin said enough is enough! And did what any reasonable developer would do...
A Bookkeepers' Solution to Check Printing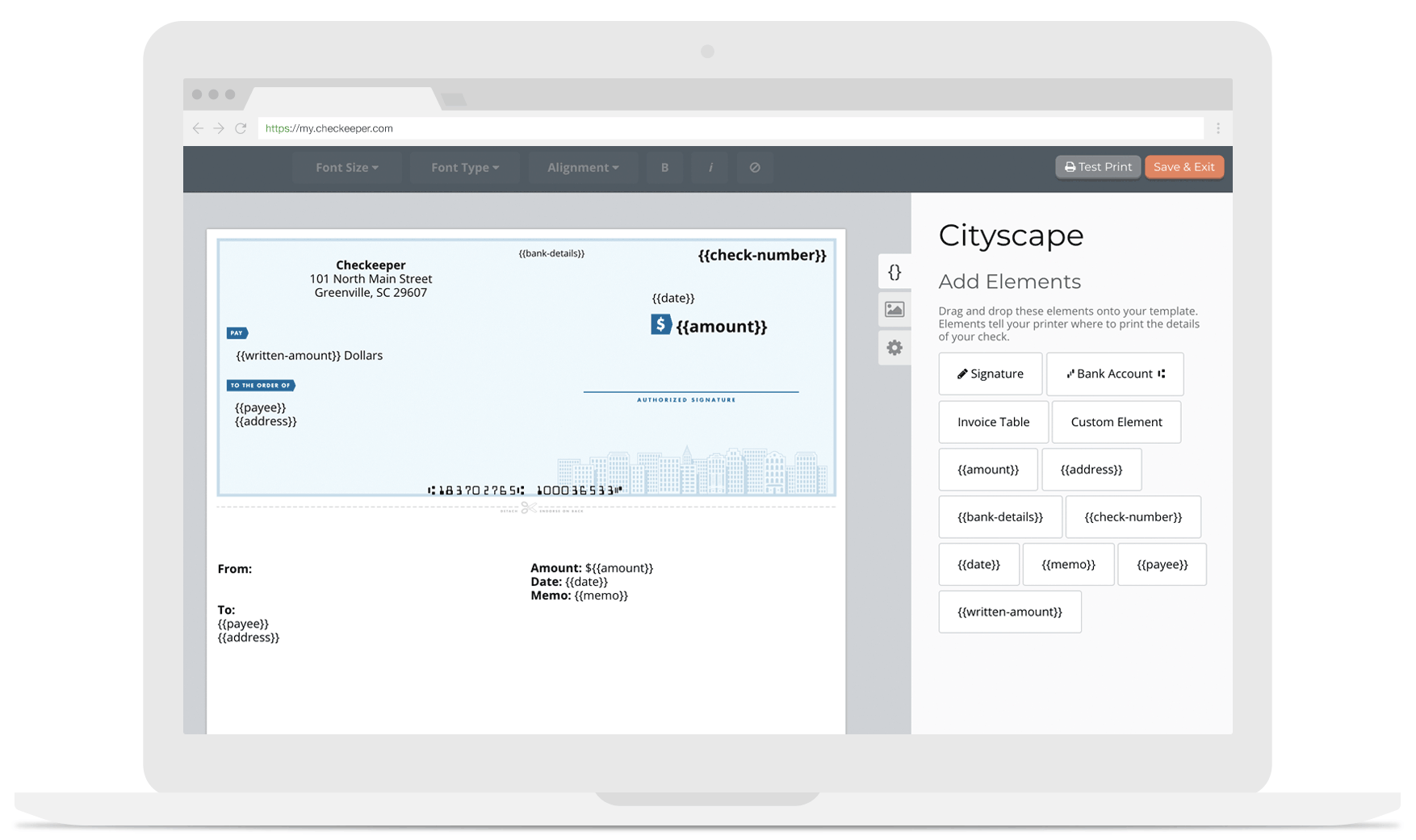 Checkeeper is built for accountants, first starting with a robust, secure and easy to use check template editor. The editor allows you to work with virtually every type of check stock your customer might throw at you. Check on top? Done. Check-on-bottom with invoice table in the middle third? Yep, just drag and drop a few things around and you're set. No MICR line on the check stock? No problem! With Checkeeper's template editor you can manage an unlimited number of clients, their accounts and the printing preferences.
Enjoy the number crunching, not the check stuffing.
Writing, stuffing, stamping checks takes time. A lot of time! And the cost, well. It's a lot more than just that first-class postage… Bank of America gives an estimate that businesses lose anywhere from $4 to $20 to cut, mail, and process each paper check, while Aberdeen Group reports an average cost of a check payment to be $7.78. For a small firm printing and mailing 50 checks a month using internal resources, the savings are potentially anywhere between $1,530 and $11,130, annually by switching to Checkeeper.
Checkeeper will print, stuff, lick, and stamp so your team never has to do that expensive work again. Mail checks on your clients' behalf at your request by a simple click of a button- it's like the checks are coming from them.
Secure. Secure. Secure.
As an accountant, security is everything when it comes to you and your clients' information. Checkeeper is SOC II, HIPAA and PCI compliant and uses bank-level encryption of all data, and secure password access for the entire system. Plus, a digital "footprint" of all activity lets you know who, when, and where a check was created.
Stay Customer Focused
You've learned to rely on yourself to get things done, and high demands pull you away from building and maintaining relationships. Checkeeper keeps you from stretching yourself too thin by automating your check writing and putting time back in your hands, so you can focus on the most important parts of your business, your clients.