Online Check Printing for Real Estate Businesses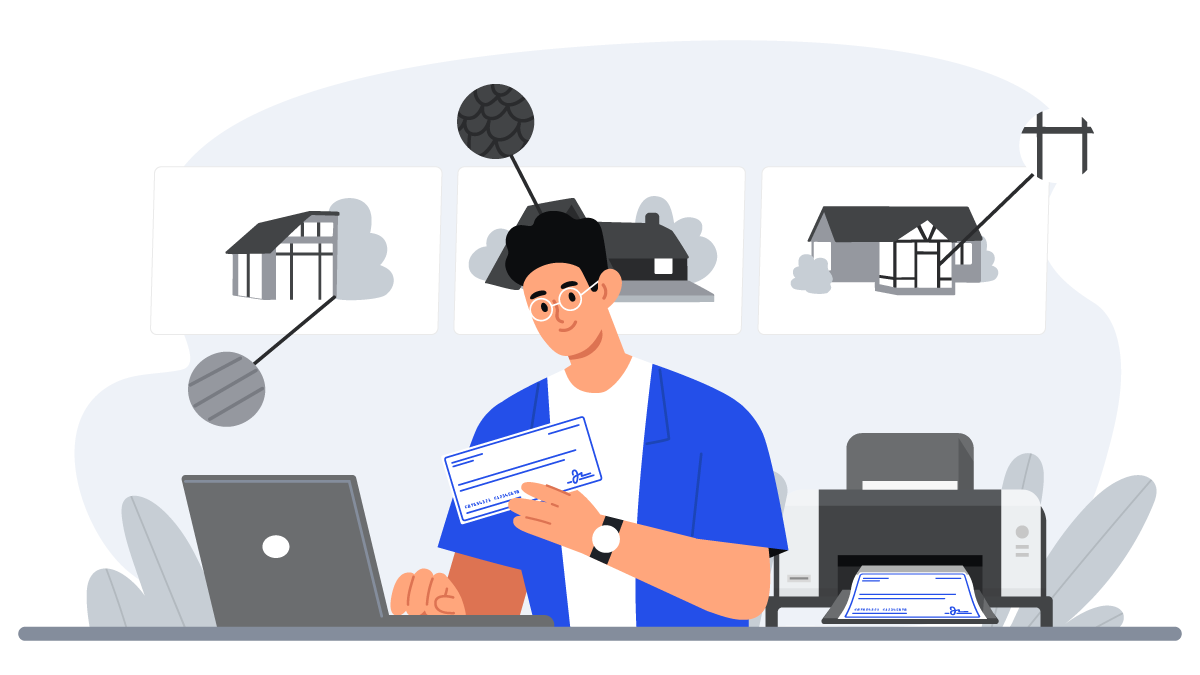 Companies that provide services in the real estate sector have long known the time and cost benefits of using automating tools for managing payments. Online check printing is not only for large companies: small businesses, real estate agencies, rental management agencies, real estate photographers and marketers, mortgage and insurance brokers, inspectors, appraisers, cleaners, and other types of businesses that serve clients in the process of buying, selling, or renting property can all benefit from adopting online check printing and mailing for the most seamless, accountable, and streamlined method of issuing check payments.
Checkeeper has been serving businesses of all sizes—from large companies to micro businesses to solopreneurships—for over a decade. Real estate encompasses a growing group of professionals who are discovering unique benefits of online check printing and mailing. Online check printing and mailing through Checkeeper offers services that cater to the specific bookkeeping needs of companies in the real estate industry:
Customized business checks on demand
Checkeeper enables users to print checks from the convenience of their office, home, or remote travel location. Checkeeper does not require specialty paper or equipment but can work with any check stock you choose, on any printer you have. Upload your real estate company logo for a unique look as well as an extra branding opportunity.
Printed checks from multiple accounts
Some real estate professionals manage monies held in multiple bank accounts. When checks for different purposes have to be funded from different sources, versatility and accuracy are key features for online check printing. Checkeeper lets you print checks from as many linked checking accounts as needed. Change the routing number, account number, and contact information on any check; Checkeeper does not touch your funds—it only prints your checks for you with the banking information you provide.
Accountability and control
Have several people accessing the funds for issuing payments? Delegating the bookkeeping can save time and improve efficiency for everyone when standardized practices are followed rigorously; unfortunately, the more people involved in the company bookkeeping, the more open it becomes to mistakes, oversights, duplication, and fraud. Checkeeper lets account holders authorize and limit user permissions so that bookkeeping can be delegated without sacrificing accountability. Check transactions can be traced to the initiating user, while the details from each issued check are automatically stored in a secure, online registry that can be searched according to any check field: payee, check number, date, amount, and even the memo. When it's time to close the books for the year, export a complete history of every check created for smoother accounting, tax preparation, and expense documenting.
Universal access
Buying, selling, and consulting on property means a lot of time on the road. Checkeeper goes wherever you do: work from anywhere—even your vehicle—to order checks printed and mailed within the business day. Cloud-based and mobile optimized, Checkeeper gives you 24/7 secure online access from your device. Checks ordered to be printed remotely can be in the mail within the same business day.
Complete outsourcing options
Low on time or supplies? If you are spending too much time doing bookkeeping paperwork, outsource your check printing and mailing to Checkeeper for the most time- and energy-efficient way to keep payments up-to-date. Checkeeper can print your needed business checks from its fulfillment site and mail them according to the priority mailing option of your choice. Get all the benefits of unlimited check printing without any of the work.
Checkeeper comes with:
·       An easy-to-use platform
·       No hidden fees
·       A customizable template for designing your checks
·       Unlimited check printing per month
·       Unlimited linked bank accounts
·       Payroll capabilities
·       A searchable check registry
·       Priority mailing options
·       Integrations with other accounting and payroll products
·       Top quality customer service
·       A risk-free 14-day trial