Online Check Printing for Every Business Need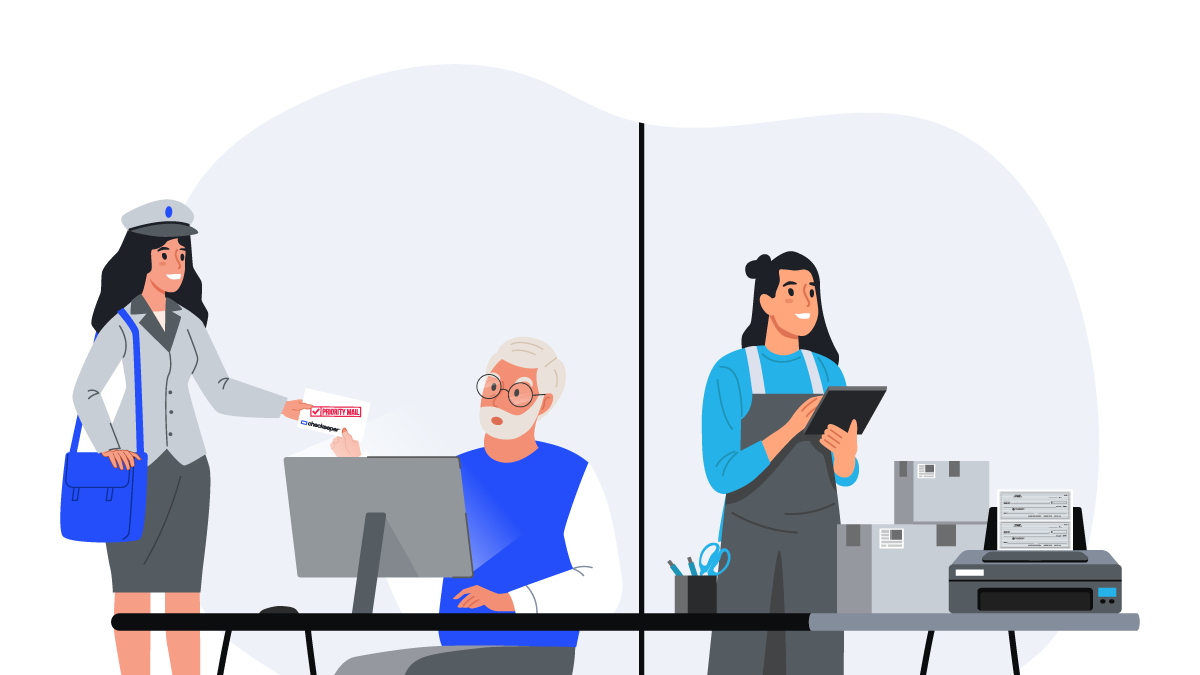 Online check printing can be a solution for businesses of all types, even those with completely different set-ups and payment demands. Online check printing through Checkeeper is the most efficient way to get your checks printed and mailed, regardless of what kind of a specific solution you're in need of. Online check printing and mailing with Checkeeper is ideal for business owners and individuals whose check needs fit any of these scenarios:
You need only a few checks or you need thousands of checks
Online check printing is compatible with the various check needs of all-sized businesses. If you need only a couple of checks here and there, it doesn't make sense to invest in expensive bank checks and supplies when online check printing can put a check in your hands instantly and inexpensively. If, on the other hand, you need to issue hundreds or thousands of checks, the old-fashioned checkbook is the least efficient way to go. Checkeeper can print all your checks for you from its fulfillment site and have them out to each recipient or back in your own hands quickly, with hardly any time or supplies needed from you.
You have lots of office supplies or you have no supplies at all
If you are already fully stocked with printer toner, check stock, envelopes, and stamps, you have everything you need to print and mail your own checks. But if you have none of these, you are just as ready: Have Checkeeper print your checks for you and place them in the mail within a single business day. No supplies needed from you.
You have a professional bookkeeper or you do all your own bookkeeping
Checkeeper is a superb bookkeeping tool for DIY entrepreneurs who want efficient, streamlined, cloud-based payment options. But when the bookkeeping requires more time, attention, or expertise than you have available, a part-time or virtual bookkeeper can be a great option. Checkeeper makes it easy to hand over the check-printing work to an outside bookkeeper when the situation arises. Professional bookkeepers are already familiar with the benefits and efficiency of online check printing. The Checkeeper platform allows account owners to authorize and limit permissions so that bookkeepers or employees have the access they need to keep check payments on time.
You already use an online accounting and payroll service or you use nothing
Checkeeper users appreciate how seamlessly Checkeeper integrates with the most widely-used accounting, payment, and payroll software, including QuickBooks Online, FreshBooks, Square, Gusto, Xero, and more. But Checkeeper also works as a stand-alone service for unlimited check printing and mailing needs.
You are tech-savvy or you are tech-challenged
One of the benefits of cloud-based check printing is that the updates, security, and IT issues are handled for you. Whether you are already familiar with online business software or are still very new, online check printing through Checkeeper is easy to learn. An easily-navigated site, complete video and written instructions, and attentive customer service make learning and using Checkeeper simple for all users.
You need professional checks or you need personal checks
Printing business checks on high-quality check stock with uploaded logos gives business checks a much more professional appearance. But lots of clients also use online check printing for personal use, as well. Upload a background or image of choice and enjoy the benefits of customizing checks for professional or for personal use.
Your business is seasonal or it is year-round
Seasonal businesses have special bookkeeping considerations because the majority of revenue must be generated in a short window of time, making budgeting and cash flow management more urgent challenges than year-round business owners typically have to deal with. Online check printing offers unlimited checks and can handle the large discrepancies in payment needs faced by seasonal businesses. Checkeeper offers services on a month-to-month basis with no long-term contracts, so you can access customized check printing and mailing for only as long as you need.
You have a lot of employees or you have none
A big benefit to online check printing though Checkeeper is that it is versatile enough to scale with your business and can keep up with growth. With unlimited check printing, you can print as many checks—including paychecks—as needed, no matter how many new hires you take on. Checkeeper can act as a stand-alone service for printing paychecks, or it can work in tandem with Gusto, FreshBooks, and other services to print paychecks for your entire team. Checkeeper's mailing service gives you the additional option to have all your paychecks printed for you at the Checkeeper fulfillment site and mailed back to you overnight in one economical bundle so that you may disburse them to your staff.
You need something temporary or you need something to use forever
Checkeeper is the go-to check printing and mailing service for businesses and organizations of all sizes. But it has also stepped in for many companies whose regular AP provider has been abruptly breached, shut down, or discontinued. Checkeeper can step in in an emergency for as long as needed so that payroll and accounts payable are not disrupted.