5 Places to Put Your Business Logo for Improved Brand Recognition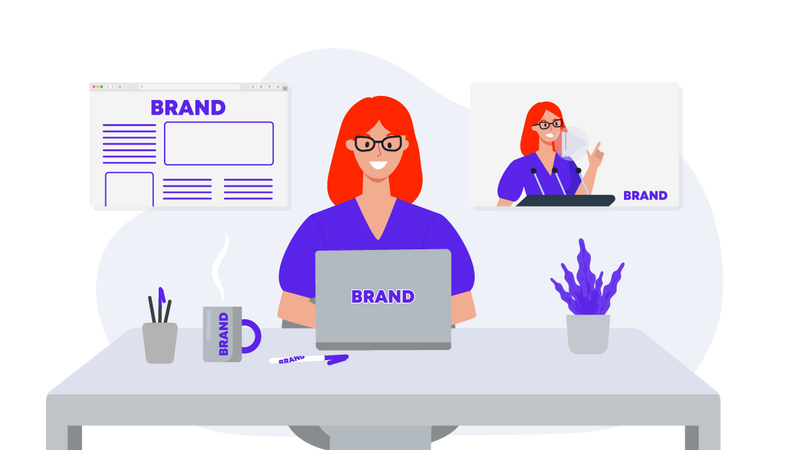 A plethora of resources exist for helping market your small business and spread brand awareness: from Google ads, to online videos, to commercials, to hiring an entire marketing team to create campaigns through just about every digital and print channel available. But there are also some small, simple things that any business owner—on any budget—can implement quickly, and usually for little or no cost.  If you don't have a big budget for sophisticated and pricey marketing campaigns, there are still many low-cost and readily accessible places to advertise your brand: places right in front of you that should not be overlooked.
Communicating the brand through your logo
One simple and inexpensive way to enhance your brand recognition is to place your color business logo everywhere you can. It should be seen by clients, potential customers, suppliers, community members, and everyone else who may cross paths with your business. If you haven't already, consider these 5 must-place spots for your business logo so that it has the greatest reach possible:
1. Website pages
Your website is your primary online interface to connect with customers. It is seen by your loyal clients and also any potential customers, as well as competitors. A quality website is essential in 2023, and it should be optimized for mobile usage as more and more people use their phones to make purchases, compare prices, read reviews, and search for store location data. Your website main page is a widely-seen place to promote your business logo; the logo should also be on every landing page, as well, for maximum brand reinforcement.
2. Email messages
If you use email marketing to reach subscribers in order to advertise upcoming promotions or new products, each email is an opportunity to communicate your brand. Placing your color logo clearly in the email with a direct link back to your site is a simple way to reinforce your brand and drive up web traffic.
3. Business checks
Your business checks are not only financial tools; they are also communication tools. Online check printing software gives you unlimited options in designing your business check so that your color logo can be prominently displayed on each check you send. Uploading a color logo to your template for repeated usage is a simple process. While you ideally have a logo that you can use forever, there are circumstances where you may need to change or modify it. With online check printing, you print checks on demand, so you never end up with boxes of checks with an outdated logo; if you change your logo design, simply upload the new one whenever you need to.
4. Stationary
Even if much of your business communication is online, there are still times when paperwork must be generated and filed. Having your color business logo prominently displayed on the letterhead, envelopes, and business cards that your company uses for correspondence reinforces your brand every time you compose a message or distribute your business contact info. Investigating the array of online services that can create professional stationary for your company—complete with color logo—at an affordable price can be a simple marketing strategy that pays for itself over time.
5. Invoices
Your invoices serve an immediate practical purpose, and sending them out promptly is necessary for ensuring a reliable cash flow to your business. But they can also be communication tools, too, and opportunities to reinforce your brand to those with whom you routinely do business. Invoices offer another opportunity for free logo placement that should not go overlooked.
Checks, invoices, and other documents serve as communication tools for your business and opportunities to promote your brand. Checkeeper's online check printing and mailing can print and mail professional business checks on your business's behalf and attach invoices, pay stubs, and other relevant documents. Checkeeper's wide array of templates allows you to design each check to your preference and upload your color business logo for optimal brand reinforcement each time you issue a payment.