Virtual Management Streamlines Routine Office Work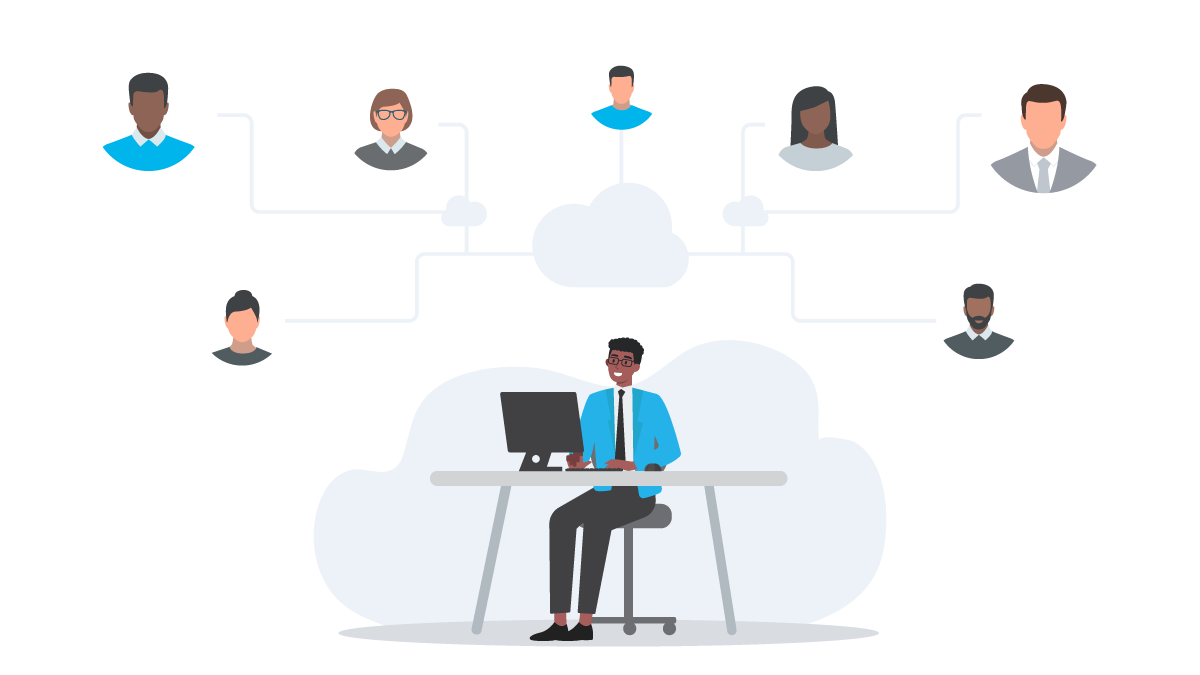 Administrative and accounting tasks are vital to running a successful small business, but they can also take up a lot of manpower hours. Digital solutions abound to help ease the burden on small business owners and employees; cloud-based software for business automates and streamlines routine office tasks so that they are done with accuracy and consistency while also freeing up hours in the day for employees to focus on other important work.
Tech solutions for businesses are particularly helpful for young businesses that do not have large staffs and may have to rely on outsourcing some time-consuming bookkeeping and clerical work. Outsourcing work to offsite specialists—like virtual assistants and virtual bookkeepers—can be done seamlessly with the integration of tech tools that allow universal access and real-time updating.
Virtual Assistants
Virtual assistants can offer economical and time-efficient solutions to lighten administrative and clerical burdens for small businesses owners. Freelance, remote assistants can be contracted on an hourly or ongoing basis to act as receptionists, personal assistants, office managers, or customer-service providers. They can schedule appointments, follow up with clients, manage social media communication, arrange travel, and keep office records. Some benefits to working with a virtual assistant:
· Time savings
· Cost savings
· Improved accuracy and efficiency
The most important things to look for in contracting a virtual assistant are: good communication skills, time management skills, organizational skills, reliability, professionalism, and confidentiality.
Virtual Bookkeepers
Accurate and consistent financial management is vital to growing a successful business, but it is also time-consuming: frequently cited by small business owners as one of the biggest drains on their time. Virtual bookkeepers can be the answer for busy entrepreneurs who want to increase revenue but not spend all their time recording, managing, and reconciling the accounts. Cloud-based accounting software for small and solo businesses can step in here to make financial management a seamless, simple series of automated tasks that take very little time. Virtual bookkeepers work offsite as freelancers who can access your accounting software and take care of all the routine bookkeeping tasks so that your accounts are managed and updated in real time with accurate numbers. Important tasks with which virtual bookkeepers can assist:
· Recording payments
· Authorizing payments
· Issuing checks
· Sending invoices
· Maintaining budgets
· Creating financial statements
· Reconciling accounts
· Processing payroll
In addition to saving your business both time and money, working with a virtual bookkeeper also reduces errors and makes tax preparation much easier. Since they are specialists in financial management and recording, they can help eliminate unpaid and late-paid bills, bounced checks, and uncollected invoices, while also improving receipt storage and filing for better tax preparation.  If you have adopted a cloud accounting program, your virtual bookkeeper can connect to your account from anywhere and update financial information in real time for you or your staff to consult.
Cloud technology connects your remote bookkeeper to your account for efficient management
There are several widely-used and well-respected online accounting platforms for small businesses that can handle everything from payment receiving to payroll processing, and the service you select will depend upon your type of industry, staff size, number of monthly transactions, and the specific services you require for optimal financial management. If your business has a checking account and issues checks to vendors, employees, suppliers, landlords, utility companies, tax collectors, or contract workers, Checkeeper is the ideal add-on service to complement your cloud accounting program. Checkeeper enables on-demand printing and mailing of business checks from any office or printer, making it an ideal tool for virtual workers. Checkeeper automatically integrates with QuickBooks Online, Harvest, Xero, FreshBooks, Gusto, and other popular online accounting and payroll providers for small businesses so that recorded transactions are synced and updated across all channels at once.
Checkeeper was designed with bookkeepers in mind and can seamlessly connect your remote bookkeepers to your account. You can restrict your virtual bookkeeper's access to only those financial services needed, and you can check on the results in real time from anywhere you happen to be working. For additional efficiency, your virtual bookkeeper can order a check payment to be printed and mailed from the Checkeeper facility so that no printing or mailing supplies are needed from his or her office. Transaction details for each check created are recorded in your searchable account registry, and mailed checks can always include tracking numbers when requested so that you are assured of added security and transparency.