Online Check Printing for Your Summer Business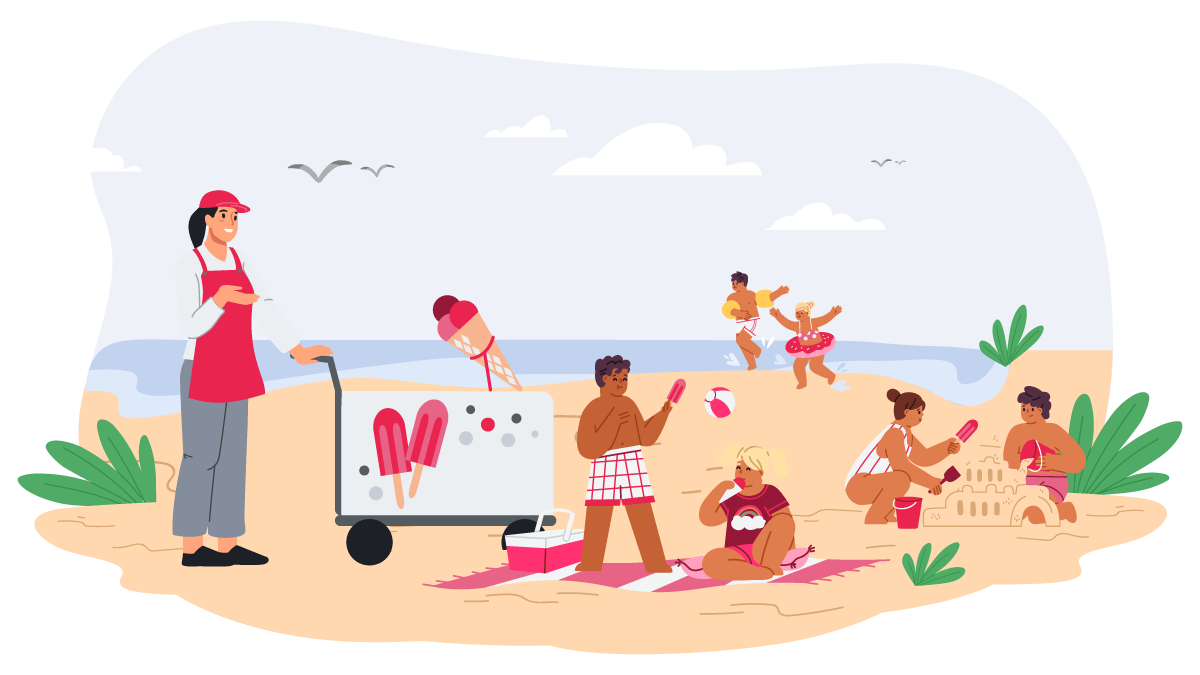 Summer is almost upon us, and the emergence of this year's seasonal businesses has already begun. Coastal regions and areas with heavy tourism benefit the most from summer seasonal businesses, as do areas with a high population of children who are looking for activities when school is over. More people vacation during the summer, creating the need for services that cater to tourists as well as to people while they are out of town. Popular summer business ideas for 2023 include:
Guided tours
Golf and tennis instruction
Water sport instruction
Water sport equipment rental
Scooter rental
Summer camp for kids
Pool cleaning
Lawn care/landscaping
Pressure washing
Ice cream/concession truck
Beach apparel and accessories
Beach gear rental and sales
Travel/transportation services
Boat rental
Pet sitting/house sitting
Swimming lessons
Bookkeeping challenges for summer businesses
If your business focuses heavily on summer-related activities and products, then you know the challenges of having to derive the majority of your yearly revenue in only a few short months to cover you the rest of the year. Bookkeeping for summer businesses can be tricky, and it can require special attention to things that year-long businesses take for granted. Some bookkeeping considerations for summer and seasonal businesses for which a busy entrepreneur should be prepared:
Managing cash flow
Poor cash flow management is one of the main reasons businesses fail, and summer businesses are the most vulnerable to cash flow management errors because the seasonal nature of the business means drastically uneven revenue from month to month. It is crucial to make the most of your company's summer season and then budget carefully during downtimes so that you can continue to operate your summer business for years to come.
Tracking expenses
If your summer business is a side business, you may be purchasing your needed supplies from your own personal funds. Even though it is advisable to have separate accounts for business and personal money, it is not uncommon for solopreneurs or those running a side gig to blend business money with personal, which can later lead to bookkeeping errors and miscalculations. Tracking each expense is important for understanding exactly how much you are spending on the business so that you can ascertain its profitability. Expense tracking is also necessary for simplifying tax preparation and helping you identify potential tax deductions for your business.
Keeping overhead costs down
If your business is one of those on the list that only operates in the summer, the space and/or equipment you choose to lease needs to have more flexible contract terms than if you operated all year. You may also need to consider inventory storage and where you'll keep the supplies needed to run your business each day. Keeping the overhead and operational costs to a minimum guarantees the greatest return on your investment, and will likely require you to do some of the routine administrative work from your home so that you don't have to spend on additional office space and utilities if you can avoid it.
Paying seasonal help
While many summer businesses start out as solo ventures, good marketing, happy customers, and positive word-of-mouth can turn them into thriving companies. At some point, additional help may be needed to meet increasing customer demand. Summer employees are typically part-time, hourly workers with varying schedules, so they may require some HR considerations different from those of year-round, salaried positions. Tracking time, calculating payroll taxes, and issuing paper checks are financial details for which summer business owners must account when taking on seasonal help.
Check Printing Software for Summer Businesses
Your summer business should be as streamlined an affair as possible. If your rented space is small or if you work primarily from a vehicle, you won't want to clutter your area with bulky office equipment and storage for supplies. Online, cloud-based tools can be the smart adoption for businesses tight on both space and time. Many summer and mobile entrepreneurs opt for payment systems they can run right from their device for streamlined financial management.
Online check printing is a helpful addition to other bookkeeping tools needed to run a summer business. Online check printing allows you to print checks only as you need them and with the supplies you already have. Online check printing enables summer business owners to pay:
·       bills to suppliers
·       refunds to customers
·       short-term leases on vehicles, equipment, and space
·       reimbursement checks for supplies purchased on the business's behalf
·       compensation checks to part-time workers
Online check printing through Checkeeper automatically records all check transactions in a secure, searchable registry for later exporting so that you can review all your business expenses and prepare accurate tax filings. This is especially helpful if you combine business and personal funds; having a downloaded or printed history of all check payments helps you sort out the business-specific spending at the end of the year for accurate tax preparation.
Tip: Cut down on your equipment and supply needs even more—while saving time and money—by taking advantage of Checkeeper's check mailing services, as well. Your checks can be printed for you and in the mail the same business day so that your time and energy can be devoted entirely to maximizing your revenue before summer is out.