Online Check Printing for Healthcare and Medical Offices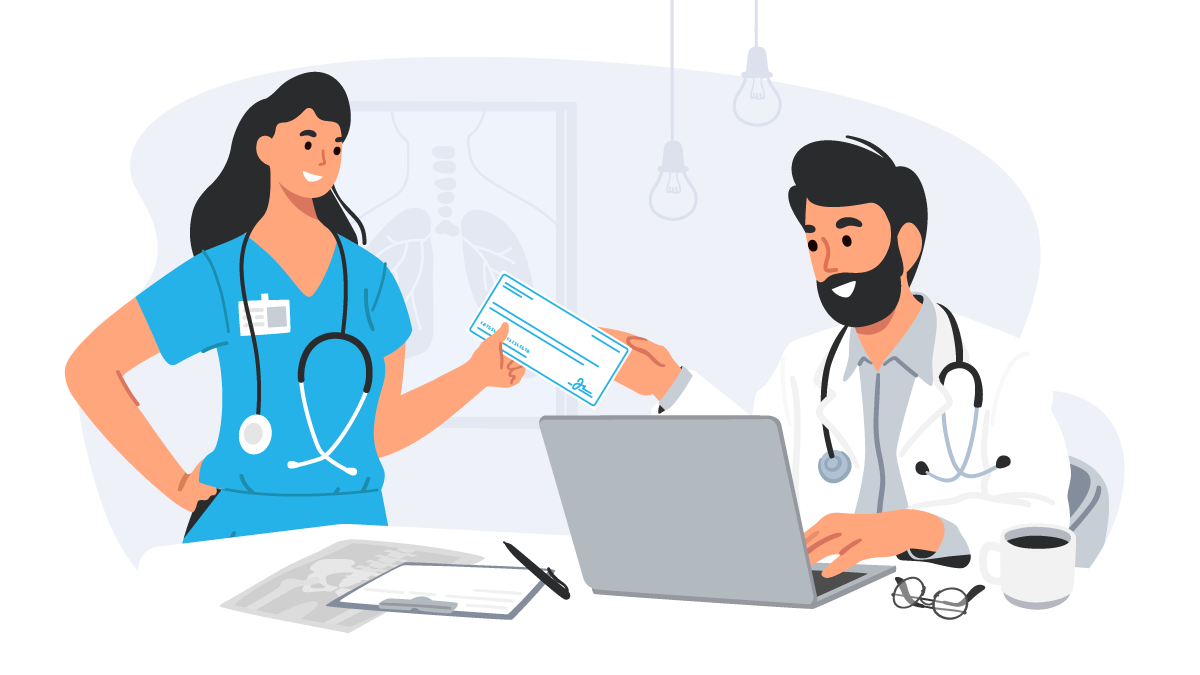 Online custom check printing is a vital tool for office managers who are responsible for bookkeeping. Only online check printing allows bookkeepers, office managers, business owners, and financial professionals to create custom business checks on demand to pay the large number of suppliers, business affiliates, clients, and employees that need to be compensated in any given day.
Those who keep the books for medical and healthcare facilities are learning each day the unique benefits of custom check printing and mailing through Checkeeper. Cloud-based and usable on multiple devices at once, Checkeeper helps bookkeepers in the healthcare field issue timely payments and paychecks from the convenience and privacy of their offices.
Custom business checks in seconds
Only online check printing can put a customized professional check—with logo and uploaded signature—in your hands within seconds. Offering templates with unlimited check features, users can print checks on any style of check stock and change the bank account or contact information as often as needed. Working from more than one checking account for different kinds of payments and reimbursements? Checkeeper enables users to link as many checking accounts as needed so that bookkeeping is streamlined and accountable.
HIPAA compliance
Protecting patients' health and personal information is a top concern of medical billing and payment offices. Users can rest assured that Checkeeper follows up-to-date account security protocols so that clients and patients can maintain the highest level of confidentiality. Checkeeper is HIPAA-compliant and GDPR-compliant and uses the same level of data encryption that banks use. Documents are stored securely on monitored premises, and all accounts are password-protected with limited user permissions so that only authorized users can access the account or trace a transaction.
Attached benefits explanations and invoice tables
When you need to include additional documentation—invoice tables, pay stubs, customer IDs, benefits explanations, etc.—online check printing can print everything together for one streamlined mailing.
Automated mailing service
Busy healthcare offices may not always be fully stocked with all the mailing supplies that are needed for urgent payments. Have your checks printed by Checkeeper and all the mailing done for you. Upload a CSV file or spreadsheet with the payee information, and Checkeeper can have all your needed checks printed and in the mail (at the priority mailing speed of your choice) by the end of the business day. Need a lot of checks printed and back in your own hands before disbursement? Checkeeper can print as large a volume of checks as needed and then mail them back to you in one economical bundle for later distribution.
Custom solutions
Even if your office has never tried online check printing before, the occasion may arise when many checks—hundreds or thousands—are needed in a short time frame, and your office lacks the equipment, supplies, time, and manpower for the work. Checkeeper can offer a custom solution to a one-time or high-volume check order for rebates, refunds, or reimbursements.
Accounting integration options
Checkeeper works as a stand-alone solution to creating customized business checks, but it can also complement the other accounting, payroll, and payment software programs your office is already using. Checkeeper integrates with Xero, Odoo, Square, Gusto, FreshBooks, and QuickBooks Online to make the bookkeeping even more efficient.
Checkeeper offers online check printing that is secure, affordable, and expedient to keep payments up-to-date and automatically recorded. Hospitals, clinics, healthcare providers, insurance offices, and medical supply and equipment businesses can all benefit from the convenience and unlimited customization options of online check printing and mailing through Checkeeper.