Best Customer Service for Online Check Printing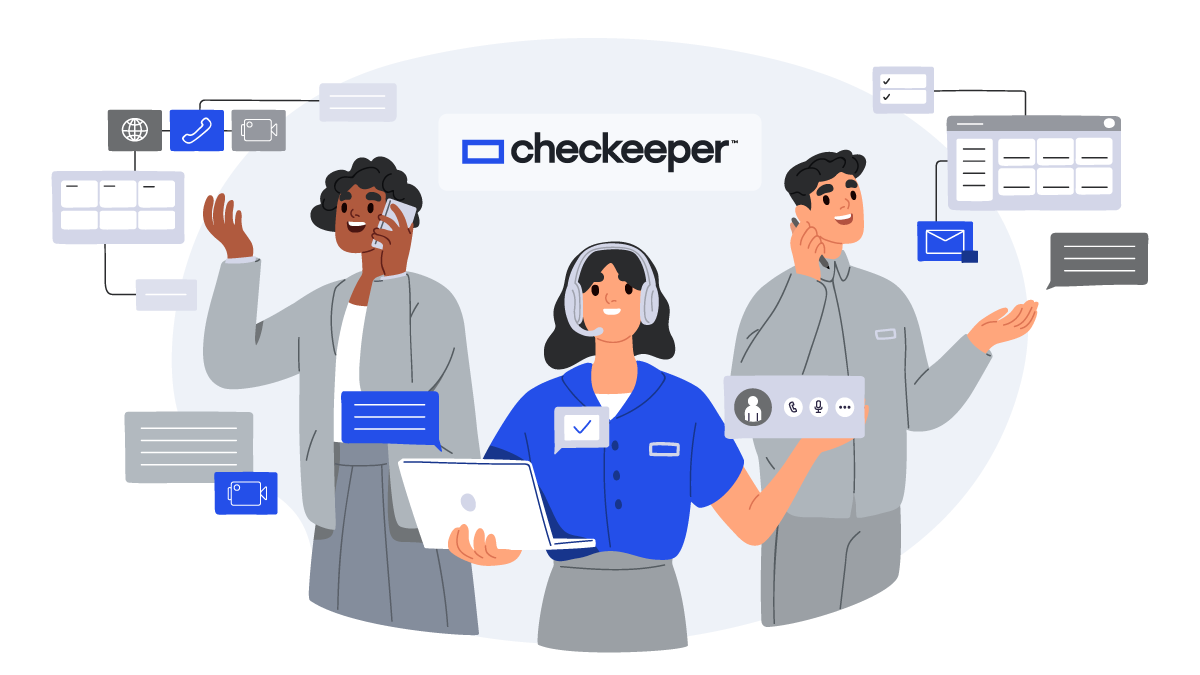 Checkeeper is unrivaled when it comes to prompt and attentive customer service. Automated website assistance is available during business hours, and a phone call or email will get you more direct service for those times that a custom solution is needed. Online videos and tutorials are readily available to walk you through most issues so that very little of your time is taken up getting your questions answers and your checks printed.
Think good customer service is outdated, unnecessary, or impossible to find? Checkeeper's attentive customer service sets it apart from the competition. While the check printing features are easy to access and use, consider five situations when good customer service matters the most:
You are brand new to online check printing
One of the biggest reasons small business owners cite for their reluctance to add more automating features to their business tasks is the belief that a lot of software is too difficult or complicated for the average person to learn. Cloud and online based products have come a long way, however, to make the transition from traditional payment methods to more updated, automated software much more straightforward. Online check printing through Checkeeper offers a website that is easy to navigate, a platform that is easy to learn, and video tutorials on demand for walking new users through all the features. For those times when you need more than DIY troubleshooting, Checkeeper's attentive customer service can answer questions and get users back on track.
You are a free trial member
Even if you're not new to the benefits of online check printing, you may be new to Checkeeper. Checkeeper will never leave you stranded. Former users of Secure 32 or other discontinued AP services—as well as clients whose previous AP and payroll providers suffered security breaches and shutdowns—have come to Checkeeper in urgent need of keeping payroll processing and bill payments up-to-date. Checkeeper makes transitioning from any older system a simple and streamlined process with no additional supplies, equipment, or investment needed. Trying Checkeeper for free unlocks all the features without cost, risk, or commitment, and attentive customer services is available to make sure satisfied trial members become ongoing clients.
You want more sophisticated options
New business owners just starting out may only need a few checks a month to issue to vendors. But as a business grows and requires more supplies, inventory, equipment, and employees, the bookkeeping needs may get more complicated. Good customer service guarantees that you do not miss out on the more sophisticated features Checkeeper offers, like account integrations with popular accounting software, included attachments, pay stubs, and invoice tables, and the ability to automatically convert bills directly into checks to print and mail for immediate payment.
You need a custom solution
When your check printing and mailing needs fall outside typical parameters, a call or email to Checkeeper can get you a custom solution. When you have a one-time or high-volume check order, Checkeeper can take all the work off your desk and have checks printed and mailed expediently. Have customer refunds or rebates to mail out to hundreds—or thousands—of individual addresses? Let Checkeeper's customer service step in and do all the work for you for the most affordable and time-effective solution.
You want your checks mailed for you
Printing your own checks on demand from the convenience of your home or office is a fast way to get your checks out; what is even faster is having someone else do it for you. If you have moved from a few checks each month to hundreds, or if you have taken on a lot of new hires, and payroll is taking a lot longer than it used to, Checkeeper's check printing and mailing is the way to go. Video tutorials and responsive customer service can guide you through the simple process of ordering checks to be printed for you and mailed out—either to individual addresses listed on the check (as for bill or tax payments) or back to you in one bundle for distribution on your premises (as for paychecks to employees and other onsite workers).
Small businesses are expected to provide stellar customer service to their own clients; why should they expect less from their providers? Checkeeper stands apart from other financial management services when it comes to getting questions answered—and checks printed and mailed—quickly and correctly. Named by Investopedia 2023's online check printing software that is "Best for Small Business," Checkeeper stands apart and offers clients a user-friendly software that is continually updated and improved.