8 Reasons Thousands of Small Businesses Have Switched to Online Check Printing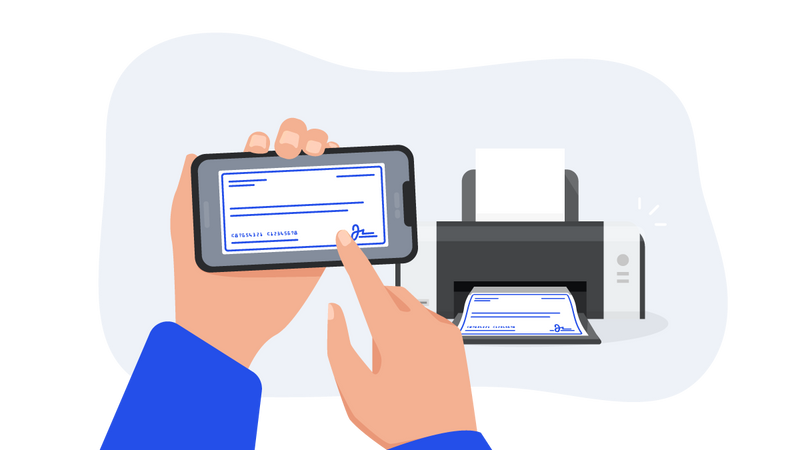 Despite the plethora of payment options available to businesses, checks are still around, and billions of checks travel through the mail each year. The old-fashioned hand writing, sealing, and stamping of yesteryear, however, have been replaced by typing and clicking into cloud-based applications that help produce professional customized business checks in just seconds; online check printing services can even have professional business checks in the mail that same day without requiring from users a single supply, stamp, pen, or trip to the post office. There are many reasons small business owners have made the switch from old-fashioned check books to online check software; here are eight:
1. Better account management and surveillance
Many businesses operate multiple bank accounts, which makes account management and reconciling challenging and time-consuming. Online check printing works with unlimited linked bank accounts while still storing all check details in a secure registry so that later account reconciling is as expedient as possible. User permissions can be set to limit and monitor account access for optimal security.
2. Easier reporting and exporting
When you are closing the books for the year, creating an up-to-date record of check payments, reconciling accounts, or tracking down a payment discrepancy, a hard copy or digital record of your check history will be needed. Online check printing software streamlines the reporting and record-keeping. Checks can be searched by any date, date range, or field within the check itself, and a record of all checks issued can be exported in seconds to your computer for printing or later reference.
3. Unlimited storage
Space is tight for many new and independent businesses. Offices may be small, and if your primary work space is in your home (or vehicle), storage space is barely existent. Online check printing requires minimal to no supplies, depending on the options you choose. To print checks from your office, you need only a printer and paper—any paper you have will suffice. All check details are stored in a secure check registry online using cloud technology, so that you don't have to keep backups or ledgers of your payments. If space does not allow for even paper and printer, you can always opt to have your business checks printed and mailed on your behalf and all transactions stored securely through cloud storage for instant and universal retrieval.
4. Remote bookkeeping
Outsourcing some or all of your bookkeeping needs? Virtual bookkeepers have become a lifesaving resource for small business owners who don't have time for all the financial management tasks but don't have the budget for a full-time hire or pricey accounting firm. Remote bookkeepers can access your accounts through the online accounting software program of your choice and manage all daily bookkeeping tasks and records from afar. Checkeeper's online check printing and mailing options integrate with online accounting and payroll tools for businesses so that your bookkeeper can print and mail business checks right from your account, on demand.
5. Better branding
Printing your checks through online tools is the only way to access a fully-customizable template and design. Online check printing accounts allow you to format your check in any way you want and with any design, background, or colors you choose. The MICR account and routing format required by banks is automatically added for you so that your printed check is viable. You can add or change the check design as much as you like, update the contact information, and add a color business logo to each check printed for optimal branding.
6. Cost savings
Ordering checks from the bank is costly, and when your info changes, those outdated checks are expensive to replace. Online check printing enables you to print an unlimited number of checks for the exact same price each month. Change your contact info or move to a new location? No problem. You can update your business address, your checking account number, and even your logo as often as you need. No more wasted money on boxes of unusable outdated checks.
7. Priority mailing options
Having the ability to print checks on demand right from your office printer is a huge savings in supplies—no special paper, ink, or toner needed, and checks can be customized and recustomized as needed so that there are never any out-of-date checks to be wasted. But busy business owners who work out of small spaces, homes, or even vehicles may want more space and supply savings, which is why online check mailing is an important option. Checkeeper can print and mail checks on your behalf so that no printer, envelopes, or stamps are needed on your end—a device and an internet connection are all you need. Priority mailing options are available with or without tracking numbers so that security and swiftness are assured.
8. Universal access
As more companies shift toward remote and hybrid work, the convenience of being able to print checks from anywhere cannot be overstated. Online check printing allows you (and your authorized remote employees) to print professional business checks on demand from a home, office, or anyplace you happen to be working that day. You can even create customized your checks if you are away from your printer by taking advantage of online check mailing options.
Checkeeper is the online check printing and mailing solution of thousands of small businesses. Checkeeper integrates with most popular accounting and payroll platforms and streamlines financial management; it is the ideal tech tool for those times when a physical check is needed.