Spring Cleaning for Your Business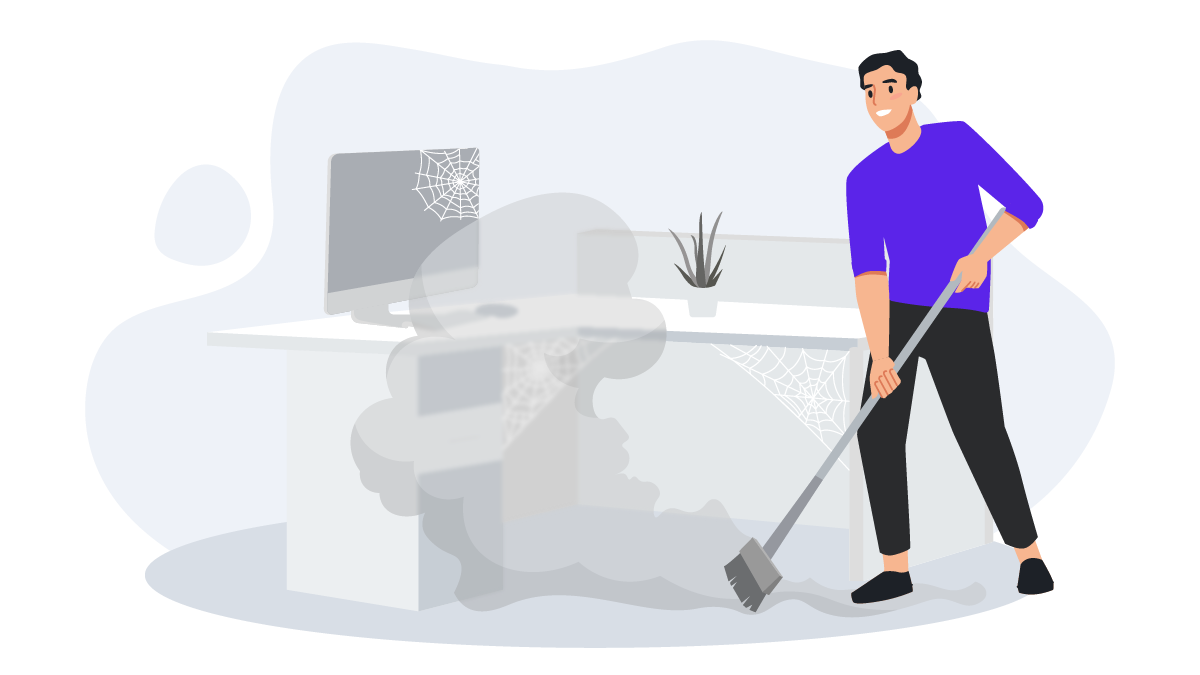 Spring is almost here, and with it, that nagging desire to declutter and reorganize. An organized home and office are vital for productive work and enjoyable living. Cleaning out closets, drawers, storage rooms, attics, garages, basements, and even yards can do wonders for mood and mental clarity while improving your focus and enhancing productivity. For those whose work is also at home, spring cleaning can have a double-effect of decluttering your living and working spaces simultaneously for a better blending of work and life.
If you've been feeling unmotivated or disorganized, consider some simple places to start decluttering for improved focus and a more productive spring and summer:
Your work spaces
Cleaning your home is a big job, but if you work at home, you can start with a small yet productive first step of decluttering your home work space. The smaller your home office, the more urgent the need to maintain an organized, tidy environment. If you work outside your home, your office likely has a lot fewer personal items, so decluttering will be mostly concentrated on ridding the space of outdated office supplies, equipment, and documents that have outlasted their usefulness. Empty drawers and shelves of nonessential items; get rid of bulky, outdated office equipment in favor of smaller, more streamlined items that can accomplish multiple business tasks while taking up less room. Cloud-based applications for businesses don't take up any room at all can be helpful tools for freeing up space in small home offices.
Your files
If your filing cabinets are full of old documents, contracts, files, and receipts that you never use or consult, spring cleaning is the perfect opportunity to eliminate and consolidate. Get rid of old papers and look into cloud storage options for simple, space-free uploading of important receipts and documents that you can access online. Spring cleaning is also a good time to go over your contact lists and update contact info for vendors and clients, eliminating outdated numbers and addresses or businesses you no longer contract.
Your books
Organization and consistency are two keys to good financial management. Cash flow problems inevitably arise when you fail to:
· Document all transactions
· Track expenses
· Save receipts
· Follow-up on invoices
· Pay suppliers on time
· Reconcile accounts
· Follow your budget
If your books are disorganized, or if your tax preparation this year was a series of headaches, there is no better time than now to get organized for a better 2023 and smoother tax filings in the future. Online, cloud-based accounting services for businesses provide immediate organization to the financial records. Online check printing can work as an add-on or as a stand-alone service to keep accounts payable organized and up-to-date. Checkeeper offers customized, on-demand check printing and mailing for busy professionals; created with accountants, bookkeepers, and business owners in mind, Checkeeper integrates with the most widely-used online accounting and payroll products, such as QuickBooks Online, Harvest, Xero, FreshBooks, Gusto, and more for seamless management of financial records. Checkeeper automatically stores all check transactions in a secure online registry that can be searched or exported at any time and by any criteria so that a full record of all checks created can be pulled up with a few clicks.
If multiple people are authorized to issue payments, multiple people have to add their transactions to the records for accurate account balancing, leaving the books highly prone to errors and oversights. Online check printing offers the perfect solution for businesses with multiple bookkeepers and the most accurate and secure transactions. Organization—as well as IT maintenance, data backups, and security updates—are all done automatically, making your payment records one less item to clean up next spring.