Check Writing in a Digital Age - How the Paper Check is Defying Obsolescence and Staying on Top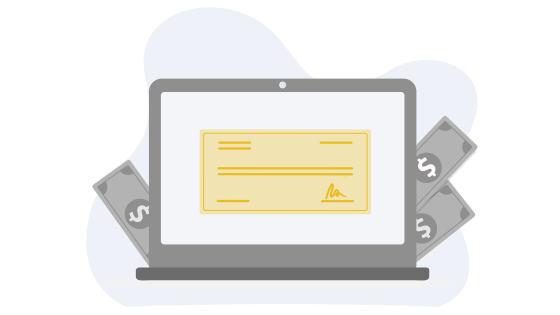 One of the benefits of checks is that they provide a safe and reliable way to pay for goods and services. For many small business owners, checks remain the preferred method of payment. Even with the evolution of digital banking, the Association for Financial Professionals (AFP) shows that B2B payments by check increased between 2013 and 2016, and the numbers don't seem to be slowing down. Here are some reasons why the paper check is still going strong in a digital age.
More Control
In 2018, Biz2Credit published the results of a study analyzing the bank statements of more than 18,000 companies across multiple industries, the first study of its kind. The study covered 2.2 million expense transactions totaling $2.8 billion made by firms that uploaded primary data onto the online small business finance marketplace.
"Small businesses are true holdouts. Many times, they use checks as a way of controlling cash flow," said Venkatesh Bala, PhD, who conducted the study. "Issuing checks provides a built-in delay in the payment of vendors and employees, whereas online transfers and direct deposits move the money directly into other bank accounts immediately."
Printed checks provide legitimacy
If you are working from home, a contractor, or someone just trying to make their mark and establish your new business, printed checks add a level of professionalism and legitimacy to your business that digital payments and even hand-written checks just can't provide.
Reliability and Versatility
Pretty much every business that accepts e-payments also accepts paper checks. Unfortunately, the reverse isn't always true. Although your company might accept both, there's no guarantee that all of your upstream and downstream suppliers offer paperless invoicing.
Avoid Credit Card Processing and Online Banking Fees
According to the 2018 Statistics of US Businesses, in 2015, United States small businesses employed 58.9 million people, or 47.5% of the private workforce. Upwards of 55 percent of those do not accept credit cards because many cannot afford to pay the processing fees required for accepting them. Businesses can end up paying up to 5 percent in processing fees on every credit card transaction, making checks a smarter financial choice.
In addition, while online banking can help a company monitor funds and keep track of cost, automatic transfers often result in overdraft fees, as the payment process occurs before customers can assess if they have sufficient funds available. Overdraft fees vary by institution, but the median is $34. Automatic transfers also involve time delays, as banks involve third parties to process payments. This takes time to process and reach a merchant or service provider, often resulting in late charges. Writing a check, especially if you use an online check fulfillment service like Checkeeper to print and send checks on designated dates, provides the flexibility to keep payments in line with available funds.
Track and Trace Payments
Paper checks offer a level of traceability that you can't get from automatic bill pay systems or cash. Many businesses use professional check fulfillment services, like the one found on Checkeeper, to print and send checks on their behalf, while keeping an easily referenced registry for bookkeeping. The site also syncs with accounting software like QuickBooks, Xero, and FreshBooks to allow for scheduling out for deadlines to match the books with the budget.  The registry feature that is included is especially important as documenting the mailing date of a payment can be essential with some types of payments, such as insurance premiums or taxes. If there is any dispute over your payment, you can easily reference your registry with the copy of the cleared check from your bank, in contrast to tracing other payment methods, which can be both costly and time-consuming.
Even in the digital age, checks are still going strong, and holding the lead. The reliability, control, and cost-effectiveness of paper checks continue to remain a top advantage for businesses over their electronic counterparts.