3 Ways Cloud Technology Can Help Small Businesses Modernize in 2023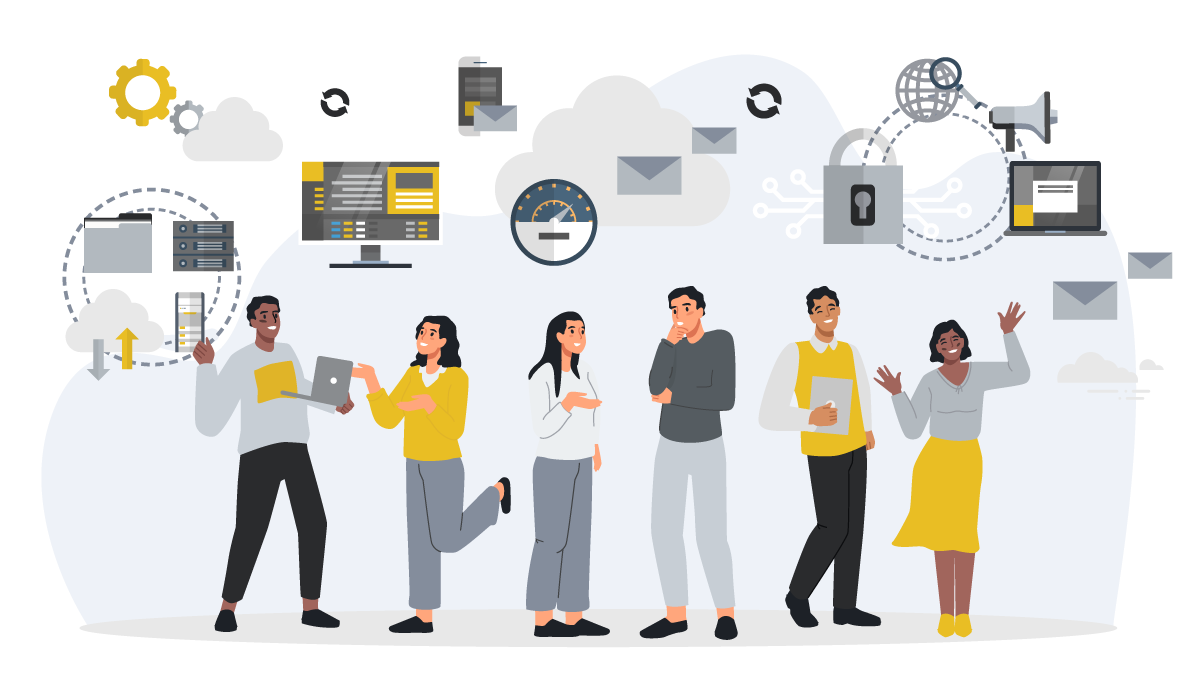 Businesses looking to modernize this year can look to the latest tech offerings for some guidance on how to streamline routine office tasks and save money at the same time. Cloud-based services have come a long way in what they can offer and how well they can communicate with each other to create a seamless, time-efficient system for businesses of all types and sizes.
3 ways cloud-based online services can help bring a business into 2023:
1. Cloud-based software streamlines financial management
Cloud-based financial products have modernized business bookkeeping in many ways. Accounting software can be used by businesses of all sizes, from large companies to micro firms with only a small handful of employees. One of its key benefits is affordability; another is its universal online access that connects every employee from anywhere and can be used without device-specific downloads and installations; and another benefit, still, is its ability to merge data from various sources, which cuts down on time while simultaneously improving accuracy. Financial data need only be entered once and it can be updated across all channels when the business utilizes cloud-based accounting and payroll services that integrate with one another. Finally, the automatic backup of cloud-based products, along with automatic, onsite IT maintenance and updates, means it is the most user-friendly way to secure data and protect it from being lost.
2. Online services keep the remote workforce connected
As remote and hybrid working options continue to increase and evolve, the pressure to keep people connected is as high as ever. While a lot of big companies are bringing their employees back to the office for at least some portion of the week, there are still many, many people working remotely on a full- or part-time basis. Cloud-based tech tools are evolving as well, as developers try to keep up with the growing demands of keeping business and financial data updated in real time and universally accessible, regardless of where on the globe team members are working.
Cloud-based tech tools for businesses allow everyone to stay connected when they need to collaborate or share files and documents; they also allow storage and backup of important data so that projects, documents, and financial statements are secure and instantly retrievable. Online services for businesses handle all the IT updates and maintenance for their software so that their clients can count on smooth, seamless usage with no special technology expertise required.
3. Online financial management products make outsourcing possible
Owners of small and mid-sized businesses take on a lot of the work, but there are times when outsourcing is the smart and economical way to go. When tasks take up too much time—or require a level of expertise beyond what is available in-house—outsourcing offers an affordable way to bring some outside talent onboard without costly HR management. For companies looking to streamline and modernize the daily financial management, virtual bookkeepers have become a sought-after alternative to full-time hires or contracts with expensive accounting firms. Cloud-based technology tools can keep your business connected to your virtual assistant, bookkeeper, or any other freelancer who works offsite but needs access to company data.
Online check printing
Online check printing is one resource that allows you to connect seamlessly to an outside assistant or bookkeeper in order to delegate many of the routine financial management tasks. With online check printing, you are able to:
· Authorize users to access your account in order to issue payments
· Have checks printed and mailed on an on-demand basis
· Record all check details and transactions in a secure online registry
· Keep your data updated in real-time
· Automatically integrate check payment details with the other accounting or payroll services you are using
· Access your account 24/7 from anywhere
· Have professional business checks printed in MICR ink and mailed on your behalf when you are short on time or supplies
· Maintain complete control over the check stock, templates, logos, designs, and styles you want to use
Checkeeper offers cloud-based online check printing that is affordable, universally-accessible, and can work with many other financial software products for businesses.